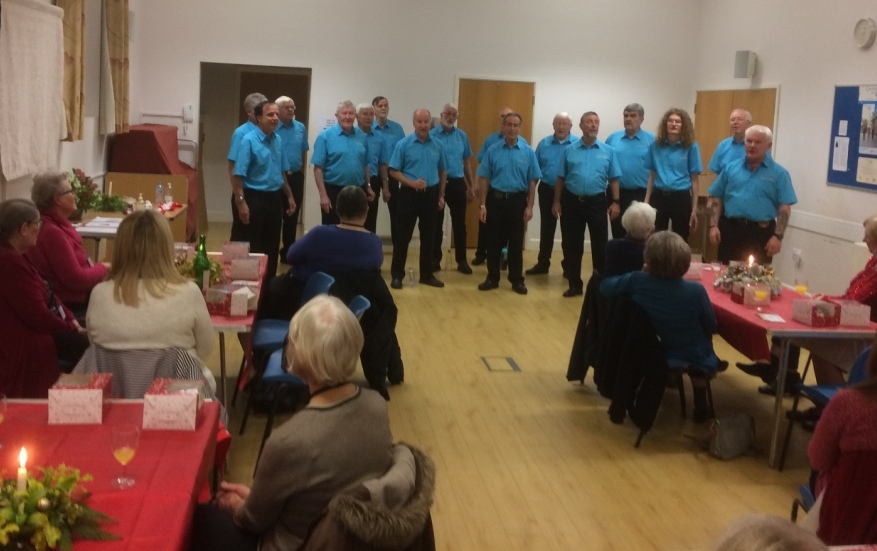 Solent City's festive season got off to a sparkling start with two gigs on
Wednesday 1 st December.
In the morning the chorus performed for the NHS Retirement Society in
Cosham, singing a selection of repertoire songs in the first half and then a
mixture of carols and Christmas songs in the second half. Tim Coney, the
society's Branch Secretary, said the concert had been really enjoyable and
had brought some much-needed Christmas cheer to his members. Then in
the evening Solent City enjoyed a return visit to Denvilles WI in Havant, after
a gap of more than two years due to the pandemic. Another terrific evening of
repertoire songs and carols concluded with an impromptu rendition of
Jerusalem.
The chorus were pleased to welcome back Peter Mumford to their ranks: a
former Music Director of Solent City, Peter has rejoined as a singing member
in the bari section. We were also thrilled to have Philip Davies (lead) and
Chris Franks (bass) make their debuts with us - both joined very recently
following the learn to sing course. Both were really buzzing at the end of the
evening and said they'd had a great time. "But", said Philip, "it was a bit
daunting when we lined up and I was suddenly facing all those ladies." Philip
- all we can say is well done and don't worry, it's only very occasionally that
they start throwing things at us…..