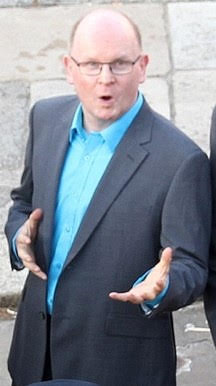 Our dear friend Gabriel Dooley sadly passed away unexpectedly just before Christmas, aged just 60.
Gabriel joined Solent City Chorus in 2011 after attending a Learn to Sing course run by the club. After receiving his 10-year pin from BABS last year, Gabriel's reaction was: "I only signed up for a 6-week LTS course. I'm not sure what happened – I must be a slow learner".
A proud Irishman, Gabriel was passionate about his singing and loved the "craic" of being with the other guys in the chorus. In recent years he commuted daily from Portsmouth to London where he was a senior engineer on the Crossrail project: he would take the train home in the evening and jump into a taxi at the station to arrive just in time for rehearsal. On the risers his style was distinctive and idiosyncratic, as Gabriel himself was the first to acknowledge. With his eyes invariably tightly closed as he sang, he was always a challenge to the MD. But with that wonderful cheeky smile, enormous charm and gift of the blarney, we all loved him.
The Chorus sends its sincerest condolences to Gabriel's widow, Kay, and their fourchildren.
At his funeral on 17th January, Solent City members past and present sang "Can You Feel the Love Tonight."